http://w3techs.com/blog/entry/highli...veys_june_2011
Highlights of web technology surveys, June 2011: The Runet is growing quickly. And it's different.
Summary:
The Runet, the Russian Internet, is growing quickly. We have a closer look at what it looks like.
Today, the
Russian language
is used by 4.6% of all websites. That is up from 3.6% one year ago. Russian is the language #4 on the web behind English, German and Japanese. If the
current trends
continue, it will become #3 before the end of the year.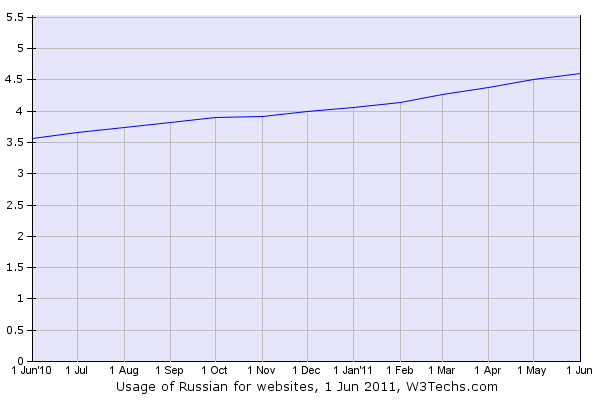 The Runet is not only Russia
The
top level domain segmentation report
for Russian shows that outside Russia the language is primarily used by websites from the Ukraine, Kazakhstan, Belarus, and even .su, the top level domain from the former Soviet Union, is still used by 0.1% of all websites. Other countries where Russian is spoken, such as Uzbekistan, Kyrgyzstan and Tajikistan, are too small to have a big presence in that report.
The Runet is different
If we look at the technologies used by site in Russian, we see the the Runet is different.
The "big 3"
Content Management Systems
(WordPress, Joomla and Drupal) and used a lot also in the Runet, but the Russian alternatives are very well respresentend:
DataLife Engine
is #3 and
Bitrix
is #4 with over 10% market share each, and also
uCoz
and
NetCat
are in the top 10 in that market.
PHP
is the most popular server-side language world-wide, but in the Runet is has almost a monopoly with well over
90% market share
.
Similarly,
Unix
dominates the
operating system market
for websites, leaving only 11% for Windows.
The
character encoding
used by the Russian sites is primarily
Windows-1251
, designed specifically to cover the Cyrillic alphabet. Against the global trend
UTF-8
is used by only 43%.
The
web server segmentation report
shows the best known example of Russian web technology:
Nginx
is head to head with
Apache
in that statistics. If we take only the
sites from Russia
, Nginx is already leading.
Russians love their web counters. That shows in the
traffic analysis segmentation report
, where
LiveInternet
has more users that
Google Analytics
, and two more local services,
Rambler
and
Yandex.Metrika
, are also very well represented.
When it comes to advertising, the Runet embraces Google like the rest of the world, but even more:
Google AdSense
is the dominating
advertising network
with over 92% market share, compared to 79% world-wide.
Local is beautiful
Examining the Runet as an example of a growing local internet market shows that despite the increasing globalization of our economies, and despite the seemingly border-less nature of the web, local services and technologies can still be quite successful. That is nice.
_________________